Sound Insulation
Sound Insulation is the process of preventing sound waves from permeating. The overall ability of a material to reduce the transmission of sound through it. It is demonstrated by the sound transmission loss which is expressed by the difference of decibels between the incident sound and permeated sound.
Citizen Cooling Solutions stock a wide variety of sound (Acoustic) Insulation Materials ranging from Acoustic Foam (Auralex Studiofoam Wedges), Acoustic Cloth/Fabric, Acoustic Panels/Boards, Floor Underlayment, Sloted/Hybrid Panels among many others.
Acoustic panels
Pyramid/wedge and bevel foam –
2 inch Acoustic foam provides moderate sound control on walls or ceilings. With professional acoustic control, sound suppression, acoustic processing, noise reduction, the acoustic foam is able to reduce the waves, reverb and flutter echo in small and medium-sized rooms.
Made up of environmentally friendly polyurethane foam, the acoustic panels not only have effective sound absorption characteristics, but also will not cause any harm to our body
Great for spot treating sound on walls in your studio or office – For use in recording studios, , Offices home studios, home entertainment theaters, Home Offices.Easy to shape and cut to size, altering won't affect performance.
NRC of .65
Thicker 3' & 4" Acoustic foam panels can be available on order
Symmetry wedge foam is a specially designed foam for acoustic purposes, unlike foam sold by mattress manufacturers this foam has a studio gray color great structure and open cell ration. We've used the same great design principles that we have come to be known to deliver a tile that is effective and cost effective too! This tiles pack a punch and will instantly improve the acoustics of your studio.
Specs
Panel size: 300mm x 300mm x 50mm
Coverage: 12 pack covers 1.2 sq meters
Polymer type: Open cell polyether
Density: 28Kg/M3
package: 12 wedges
Color: Studio Grey/sky blue/black /purple
Profile Wedge: 20 base 30 Rise
Frequencies
100
200
500
1k
2k
5k
10k
NRC
Absorption coefficients
0.10
0.25
0.70
1.0
1.0
1.0
1.0
0.72
These are decorative acoustic panels designed to absorb mid and high frequencies in a recording studio. they can be customized in variety of thickness, color and shape. Light construction allows easy mounting on the wall or ceiling. Damping rigid fiberglass material inside the panel has NRC OF 80 and class A fire rating and is suitable for commercial specs.
-Broadband with dimensions 600*1200*150mm
-Standard Board with dimensions 600*1200*50mm
Square and Bevel edge available.
| | | | | | | | | | | | | |
| --- | --- | --- | --- | --- | --- | --- | --- | --- | --- | --- | --- | --- |
| Frequencies | Hz | | 100 | | | 200 | 500 | 1k | 2k | 5k | 10k | NRC |
| | | | | | | | | |
| --- | --- | --- | --- | --- | --- | --- | --- | --- |
| Absorption coefficients 50mm thick | 0.23 | 0.52 | 0.80 | 1.0 | 1.0 | 1.0 | 1.0 | 0.8 |
| Absorption coefficients 100mm thick | 0.65 | 0.80 | 0.90 | 1.0 | 1.0 | 1.0 | 1.0 | 0.9 |
Sound absorbing panel and hybrid acoustic panels are ideal for absorbing environmental reflections without making the room dead. The perforated natural board provides pre-scattering sound in the range of 800 Hz to 3000 Hz. The acoustic fiberglass behind it absorbs low frequencies up to 150 Hz. By combining sound absorption and diffusion, the sloted wood panels offer better internal acoustics by reducing the annoying reverberation that makes sound unmanaged
The sloted wood acoustic panels are used in elegant listening rooms, recording studios and home cinema theaters.PACK OF 4
PRODUCT CHARACTERISTICS:
Easy to mount on walls or ceiling
Modern design
Reduced weight
Hybrid wood panel for absorption and diffusion
Available in 6 color variants
High sound diffusion efficiency
TECHNICAL FEATURES:
Dispersion range: 800 Hz to 3000 Hz
Absorption range: 150 Hz – 10000 Hz
Construction: Birch, acoustic foam/rigid fiberglass core
Packaging: Pack of 4
Available colors: pine, mahogany, oak, teak, white, cherry
2.  Low frequency management/ bass traps
Foam broadband absorbers bass traps pack of 4 (300x300x500mm)
Symmetry foam bass trap is a 12" deep absorber made of high -performance acoustic foam sculpted in a series of front wedge shapes. When corner-mounted, bass traps treat a range of frequencies starting down at 100Hz, and up to 800Hz. They can be used as single or multiple units in front and back corners of your room. Easy installation with spray glue, construction adhesives.
Features
Achieve the low-frequency sound control
Quick bass solution
Cost-effective solution
Sloted Resonator Absorbers
They are decorative low-frequency damped membrane absorbers that not only look great but also filter out damping from the mid and high-frequency spectrum. When corner-mounted,slot-traps treat a range of frequencies starting down at 80Hz, and up to 500Hz. They feature a back layer rigid fiberglass finished with black velvet then covered with a 4mm poplar plywood plate that is available in different wood colors with a semi-gloss finish. They can be used as single or multiple units in front and back corners of your room.
| | | | | | | | | | |
| --- | --- | --- | --- | --- | --- | --- | --- | --- | --- |
| Frequencies Hz | 50 | 100 | 200 | 500 | 1k | 2k | 5k | 10k | NRC |
| Absorption coefficients | 0.30 | 70.0 | 0.9 | 1.0 | 1.0 | 1.0 | 1.0 | 1.0 | 0.1.0 |
Diffuser/quadratic primed 7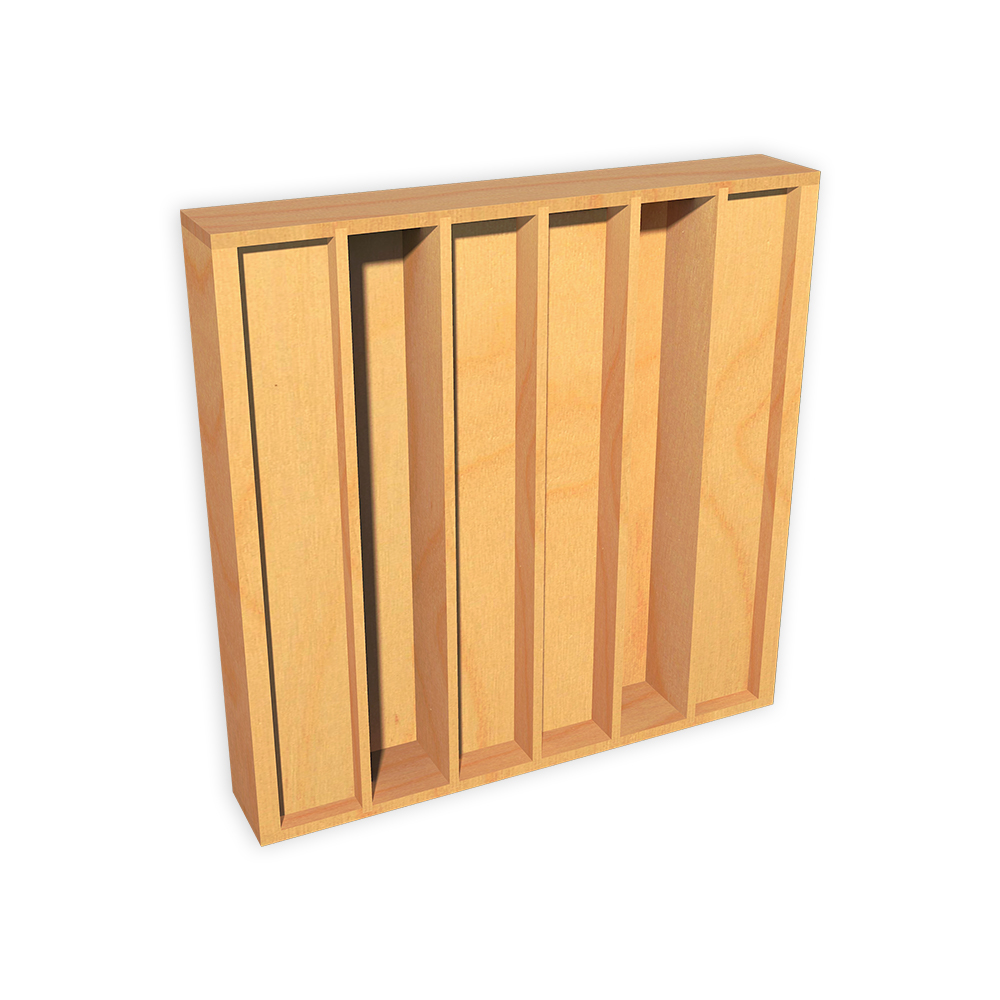 Quadratic diffusers have a series of wells or troughs of different depths, that when sound energy enters these wells or troughs it is bounced around inside the well and returns from its journey in a smaller version of itself spread out in a 180 degree, a fan-like array of energy. A Quadratic diffuser comprises wells of different depths, causing a mixture of phase shifts that diffuse reflected sound. They are used to control reflections in the listening environment, particularly from rear walls and first-reflection points. They are based upon prime numbers and each prime number has a different frequency response.
Ceiling insulation/diffusion is a must-have in any theater installation. In a theater, we use diffusion on the ceiling and rear wall. Diffusion on the ceiling, makes the ceiling sound like it is much farther away. Diffusion on the rear wall makes the rear wall sound farther away than it is. Both ceiling and rear wall diffusion make the room sound larger than its physical dimensions. Everyone wants their rooms to sound larger than they actually are. They can be installed in a drop ceiling system that has been re-engineered to handle the additional load. Units can be installed directly against existing surface areas by gluing or using hardware attachment methods. When installing in a ceiling system be sure for 100% coverage of the ceiling with diffusion. This coverage can be adjusted to meet physical space and budget requirements.
Tech specs
Nominal 100mm
Sizes (nominal)600×600 mm,600x1200mm,1200mmx1200mm
Finish mate: white painted finish,optional fabric and colors available
One Dimension diffusion,two diffusion can be achieved by grouping the panels in an alternating pattern
Designed for wall and ceiling installations
Custom finishes available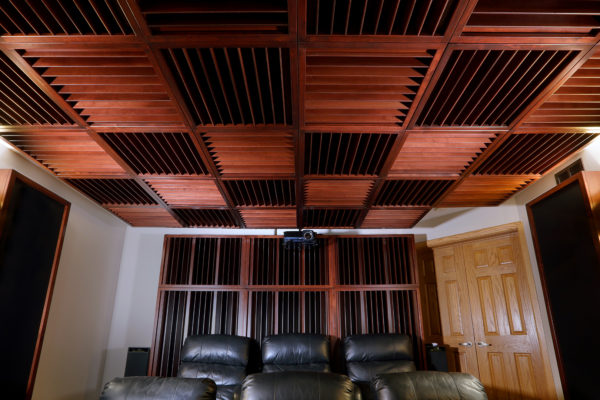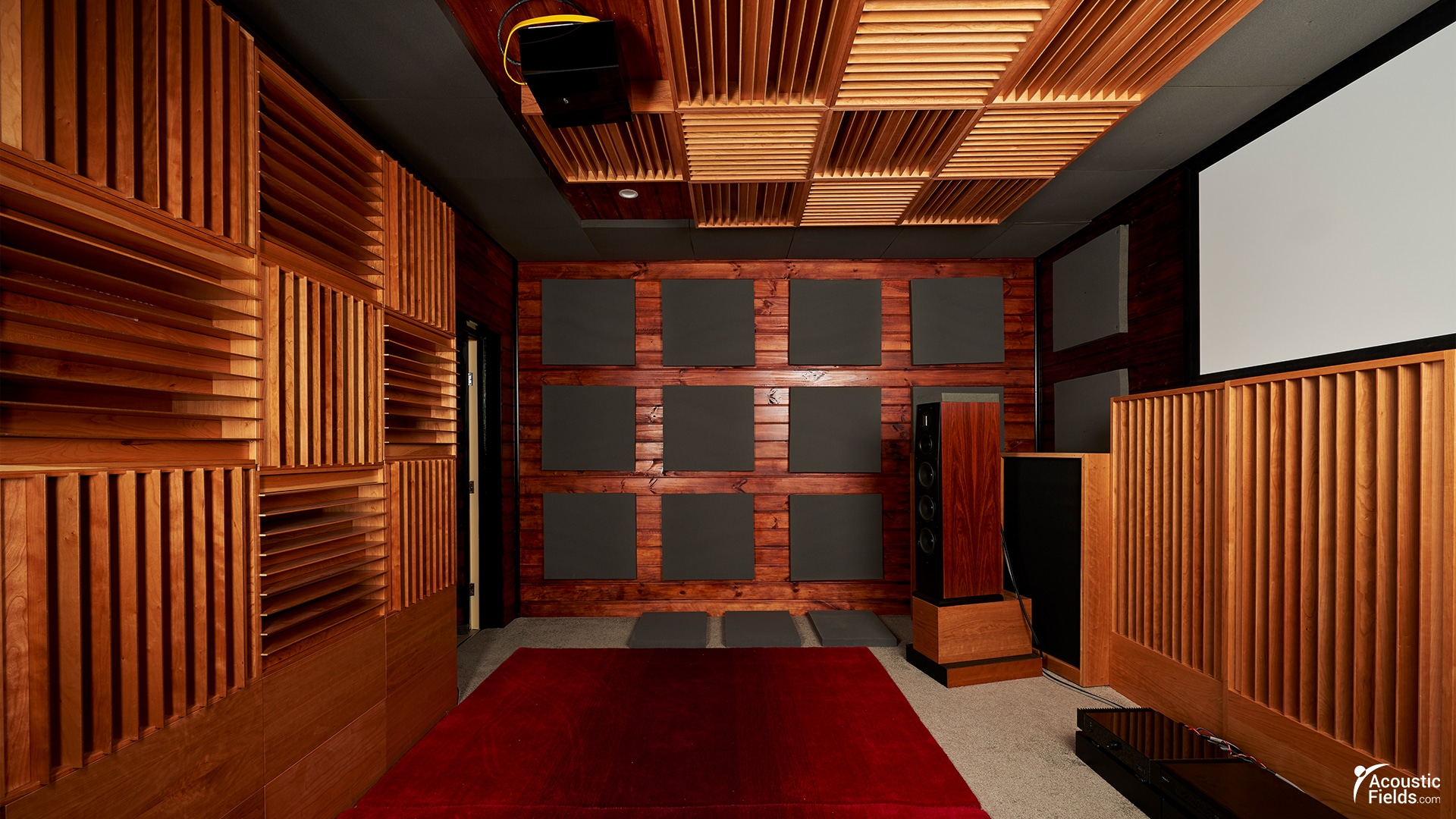 Accessories
Glue gun/ glue sticks
Flush mound/clips
Angle brackets
Rubber door seals
Soundproof doors are ideal for recording studios, offices, band rooms, hotels, dorm rooms, conference rooms or any application where a soundproof interior door is required.
– Media/soundproof door STC 45 and STC 30 available

– Door rubber seal –
CUSTOM COLOR SHADE
VISION PANEL OPTIONAL

This is a set of pieces (foot + wedge) that forms elastic isolation pads for speakers. They decouple the monitors from desks, tables or shelves to prevent sound distortion produced by surface resonance (comb filter effect). They are made of high-density acoustic foam, specially formulated to improve damping performance and load capacity. Sold in sets of 4 complete pads, they are designed to be used in pairs and can be spaced to fit different monitor sizes and better distribute weight. The combination of the foot + wedge pieces allows for up to 5 different degrees of inclination to adapt the vertical-tilt of the speakers in order to get the best alignment with the listening point. Their cost-effective design makes them ideal for home studio use, and they can be used in other devices where the vibrations produces resonance and effective.
Decoupling is needed.
Pad = 30 x 10 cm x 6cm
Pieces of:100mm wide, 300mm long and 45mm high.
Pack of:4 complete pads, for isolating 2 speakers.
Load bearing capacity for each monitor 20kg.
Foam density 40kg/m3
For more enquirers, kindly give us a call on 0724 381 416 to place you order or email us on info@citizencoolinsolution.co.ke